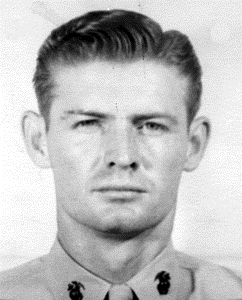 Joseph Lycurgas Brand Jr.

Technical Sergeant USMC 161 HMR SQDN 1 MAW

Born 3 September 1923

Killed in Action
February 12, 1953 Korea
Unlike most of the Tustin Area Soldiers that have Tustin Ranch streets named in their honor, Sgt. Brand was not a native son of Tustin. Joseph Brand Jr., the oldest child of Joseph and Odessa (Dye) Brand, was born 3 September 1923 in Florida and raised in Georgia and Florida.
Sgt. Brand joined the United States Marine Corps in 1942. At the time of his death,
the helicopter Squadron that Tech. Sgt. Brand belonged had been established at
the El Toro Marine base but stationed in Tustin when it left Tustin for Korea.
According to Alan Barbour, Historian, USMC Combat Helicopter Association
"HMR-161 had been able to maintain an amazing record of flight safety conducting helicopter operations in a combat zone for 17 months without losing a man."
Unfortunately, this record ended on 12 February 1953. Captain Allen W. Ruggles of Massachusetts and his crew chief, Technical Sergeant Joseph L. Brand Jr., were
about 25 miles south of Pusan on their way to rendezvous with an aircraft carrier that was to take them to Japan, when their helicopter crashed into the water. Mechanical trouble was believed to have been the cause. The bodies of Captain Ruggles and Sgt. Brand were never recovered.
Sgt. Brand was survived by his wife, Betty, two sons and a daughter all under the
age of 4 years old.
He is the recipient of the Korean Presidential Unit Citation, the Navy Presidential Citation, the Marine Corps Good Conduct Medal, the World War II Victory Medal,
the Asiatic-Pacific Campaign Medal, the Republic of Korea War Service Medal, the
American Campaign Medal, the Air Medal and the Purple Heart.

Provided By: Tustin Community Foundation
Tustin Patriots Pioneers - Chairperson Donna Perry 714 838-1806 e-mail