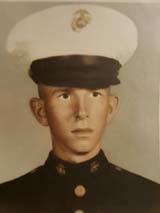 Carlos Ray Davis

Private First Class

United States Marine Corps

Born: January 4, 1950
Died: March. 22, 1968
Carlos Ray Davis Private First Class, United States Marine Corps Company F, 2nd Battalion, 7th Marines Born 4 January 1950 Killed in Action 22 March 1968 Quang Nam, Vietnam
Carlos Ray Davis was born January 4, 1950 in Dayton, Ohio, the oldest child and only son of James Davis and Zora Belle Sutton Davis. The family, along with younger sisters Pam and Debbie, moved from Ohio when Carlos was 9, first to Whittier and then to Tustin.

When Carlos started at Tustin High in 1965, he decided he wanted to be called Carl. Carl was a quiet and shy young man and ran track at Tustin High but was not involved in many other high school activities. Although it was not obvious to many others, what Carl did have was courage and strength. He decided at the end of his junior year that it was time to prove himself and left school as a 17 year old, prior to graduation, to join the United States Marines. His sister recalls his favorite song as Sherrie by the Four Seasons. She can't help but think of her brother when she hears that.

Carl completed his boot camp in San Diego and basic training at Camp Pendleton. After receiving his training, he volunteered to go to Vietnam and arrived there on January 24, 1968. Company F was engaged in Operation WORTH, just outside of Saigon, in what was known as Hill 1025. Enemy forces were waiting in ambush and PFC Carlos Ray Davis was killed in action. He had just turned 18 years old.
Carl is the recipient of the National Defense Medal, the Vietnam Service Medal, The Vietnam Campaign Medal and the Purple Heart. He is buried at Fort Rosecrans National Cemetery in San Diego.


Provided By: Tustin Community Foundation
Tustin Patriots Pioneers - Chairperson Donna Perry 714 838-1806 e-mail
Tustin, CA Military Heroes