Allen J. DuRoy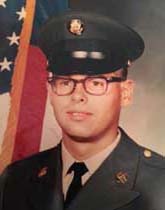 PFC U.S. Army

Born: Dec. 01, 1948
Died: April 18, 1971 (22)

virtualwall.org
Panel W4, Line 133

Tustin Military Heroes
Died: April 18, 1971 Thua Thien Province, South Vietnam

PFC Allen Jacques DuRoy Private First Class, United States Army 101st Airborne Division, 2nd Battalion, 327th Infantry, D Company Born 1 December 1948 Killed While Serving 18 April 1971 Thua Thien, Vietnam
Allen Jacques DuRoy was the second child and only son of Jacques and Ruth Jenkins DuRoy. He was born December 1, 1949 in Flint, Michigan. The family, along with his older sister Kay, moved to California in 1954 living in Northern California, Garden Grove and eventually moved to Williams Street in Tustin in 1964. Although he had been called "Skipper" most of his life, while in high school he was called Al.
Al had been attending Santa Ana Valley High school when the family moved to Tustin. He decided to stay at Valley High. Al was quiet, liked school and was described as studious. A classmate from his graduating class of 1967 wrote that Al was a lot of fun and made going to school fun. Al could be seen driving around town in his 1957 turquoise and white Chevy. After high school he worked for Southern California Edison and attended Santa Ana College. During his college time, Al stopped for a semester to marry his high school sweetheart, Mary Sparks on May 17, 1969. Mary and Al lived in an apartment down the street from his parents on Williams Street. His sister said they were completely devoted to each other.
While on his break from college, Al was drafted into the United States Army, completing his military training at Fort Bragg. Allen found that he really enjoyed the military and talked about making it a career. Allen's tour of duty in Vietnam began on October 23rd, 1970. While on night patrol on April 18, 1971, PFC Allen J DuRoy stepped on an American land mine and was killed while serving his country. He was the last of the Tustin Soldiers to die in the line of duty. He was just 22 years old.
Allen loved the ocean and would go there for hours to enjoy the peace. He is buried at Pacific View Memoria Park in Newport Beach, overlooking his beloved ocean.

Provided By: Tustin Community Foundation
Tustin Patriots Pioneers - Chairperson Donna Perry 714 838-1806 e-mail