Donald Eugene Ynigues

Seaman First Class,
U.S. Navy

Last Rating/NEC Group Seaman Primary Unit 1943-1943, SN-0000, USS John Penn (APA-23)

Service Years 1943 - 1943

Born May 5, 1923
Died: Oct. 14, 1943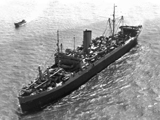 USS John Penn
Reclassified Attack Transport (APA-23) on February 1, 1943.
Final disposition: Lost to enemy action, 13 August 1943, off Lunga Point Guadalcanal
Killed in action in the sinking of the USS John Penn on Oct. 14, 1943
He lost his life when the ship was sunk off Guadalcanal by enemy torpedo and aircraft. Son of Mr. and Mrs. Marshall Ynigues, he entered Navy service Jan. 8, 1943, and left Apr. 23, 1943, for South Pacific ports, including Australia. He served as gunner arid Captainís orderly. He attended Tustin elementary and high schools.


Donald Eugene Ynigues
Seaman 2nd Class
United States Naval Reserve
Born 5 May 1923

Donald Eugene Ynigues was born in Orange, California on May 5, 1923 to Marshall Ynigues and Albertina Quintana Ynigues, He had an older brother Maeshall Jr, that did not survive infancy, a year older sister Luella and a younger brother Robert. The family lived at Prospect and Santa Clara Ave where their father was employed as a Citrus Ranch forman. The children attended Tustin elementary schools and Tustin High.

Although small and only weighing 125 pounds, Don was a Tustin High star athlete, playing basketball, third base on the baseball team and was the star quarterback on the Tustin High football team. Don enlisted into the United States Naval Reserve on January 8, 1943 and shortly after training was stationed aboard the attack transport ship and newly commissioned USS John Penn, already serving in the Guadacanal and Solomon Island area. The Penn was responsible for transporting ammunition, equipment, supplies and troops to and from Fiji and New Zealand to Guadacanal.
Late in the evening of August 13, 1943, the Penn had just completed the off loading of ammunition when it was attacked by enemy torpedoes. Despite vigorous efforts to save the ship, the John Penn was sunk in 30 minutes carrying all but 35 sailors with her, The remains of Seamen 2nd Class Donald Ynigues were never recovered.
In the 1990's when the developers were given the names of Tustin area soldiers to honor with stree names, they decided that Ynigues was "too unusual and too difficult" and chose not to honor him with a street. This infuriated his Tustin High Class of 1942 Classmates and they petitioned the Tustin City Council to place a plaque in Tustin's Peppertree Park in his honor. After fundraising and raising the needed money, his classmates unveiled a plaque in Don's honor on Memorial Day 2000.


Provided By: Tustin Community Foundation
Tustin Patriots Pioneers - Chairperson Donna Perry 714 838-1806 e-mail Tustin, CA Military Heroes - TogetherWeServed.com